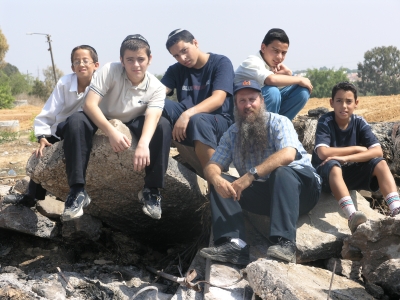 Chai Ashkelon provides a comprehensive solution in dealing with the problems caused by poverty. Families suffering from financial
hardships need help in many aspects of their life. The goal of Chai's assistance is to help them reach a state of self sufficiency and enable
them to support their families with dignity without relying on government and community help.
Beginning in preschool, the children are trained to fulfill their potential. In school they benefit from meticulously planned classes intended to maximize their individual potential, and boost their self confidence. They are taught self expression. The students partake in productions where they gain the confidence to perform in front of a large audience. As the children mature they go out into the world with confidence, a good education and motivation to apply the values of volunteering and helping others.
The organization runs a network of after school programs where children receive a nourishing hot meal, help in their homework and a variety of sports and crafts. The parents can work with ease of mind knowing their children are cared for properly.
Clothing a large family is a big expense. Chai's Chesed Center helps the families reduce the costs to a minimum.
Eshel Ashkelon provides help to the elderly grandparents by distributing hot meals and running senior day centers where they can socialize and enjoy a rich program of lectures and varied activities. This allows the parents to enter the job force and leave the cycle of poverty. In today's difficult times Chai is here to help!