Home >> Educational Institutions >> Schools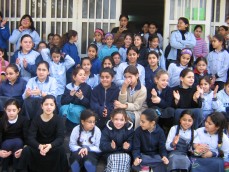 The school system

History:
The school, which was established 10 years ago with 14 girls in first grade, has grown to over 400 students today.
The quality preschool system provides the basis for potential students in the schools. The children who attend come from various backgrounds. Parents, who are interested in dedicated, personal, high standard education in a Jewish and Chassidic atmosphere, continue to send their children to our schools.

Standard of learning
Our schools provide a high level of education to the students. We compete with other schools in the city for their high standards. The classrooms are smaller than in other schools in order to provide more individualized attention to each pupil. The elementary, intermediate, high schools and Yeshiva keep up with and surpass the levels of other private schools. The high school and Yeshiva take the government accredited exams.
Chassidic social atmosphere
A strong chassidic emphasis in the schools allow the children to taste and enjoy the special atmosphere of Chai. This is achieved by programs and activities which the students in the upper classes help organize and run.
We will be happy to provide you with more information.